A dog has left her owner red-faced after helping herself to a toy at the local pet store, causing her owner to have to return and pay for the item.
The sneaky pup's antics have delighted the internet, gaining more than 130,000 views on Instagram and thousands of likes.
Whiskey the dog lives in Washington D.C. with her owner Amber Aquart, who is a certified dog trainer and pet expert.
A Nova Scotia duck tolling retriever, Whiskey has more than 55,000 followers on her dedicated Instagram page—whiskeytoller—where Aquart shares videos and pictures of the pooch's adventures.
The video shared on Monday shows Whiskey sitting in the front of the car with a fluffy bird toy in her mouth. With the hilarious backing sound saying "don't be suspicious," the text overlay reads: "When mom has to go back to the store to pay for the toy she didn't notice you grabbed and snuck out…"
Avoiding any eye contact, Whiskey's adorable reaction has left the internet in stitches.
Aquart told Newsweek: "She has tried to take things from stores a few times and the store and the staff always laugh at her because she knows exactly what she wants!"
"Whiskey you are so funny," wrote one viewer. While another said: "That's a pro move."
"You sneaky doggy," said another Instagram user in the comments.
According to the 2021-2022 APPA National Pet Owners Survey, the average annual cost of dog toys for pet owners in the U.S. is $56. Last month, consumer research platform Research and Markets reported that the global market for pet toys in 2020 was estimated at $2.5 billion and projected that it would grow by 5.8 percent in the period to 2027.
The Nova Scotia duck tolling retriever—often referred to as a toller—is listed as the 83rd-most popular dog breed in the U.S. by the American Kennel Club (AKC). The AKC says the dogs are intelligent, affectionate and eager to please. Big fans of playing fetch, they were originally bred for hunting and were used to lure curious ducks into gun range.
"I noticed Whiskey snuck out with something as we were getting in the car. The pet store staff always get a good laugh out of her and she loves getting treats from the counter," said Aquart.
Viewers of the video joked about the fact Whiskey had chosen a duck toy: "What's a toller without a duck," said one comment. "Of course it's the duck," joked another.
Other commenters shared stories of their own dogs' criminal antics. One Instagram user said: "Mine stole a treat out of the loose treat bins… had the whole thing in his mouth. Had no idea until we were halfway home and he spit it out on the seat and curled up to enjoy his spoils."
Another said: "I've had to buy so many random things when we're halfway out the door and I realize the dog has a toy in her mouth."
"I always love when people on the internet and across the world get a smile of laugh from one of our videos," said Aquart, who posts regular pictures and videos of Whiskey on her Instagram and TikTok pages under the handle whiskeytoller. "It brightens out day and makes me happy to be able to share her silly antics with the world."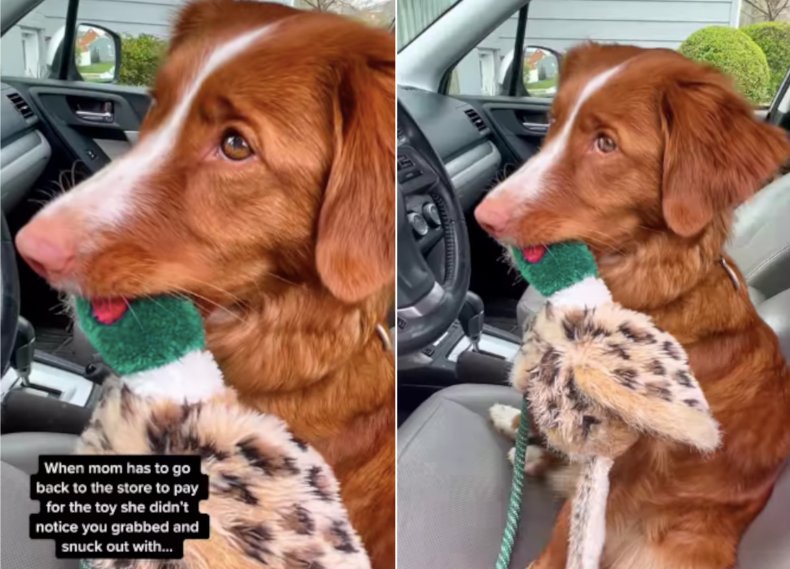 UPDATE 04/08/22 at 3:45 a.m. ET: This article was updated with a new image, video and comments from the poster.